Terra Rosa is located in the "Quinta de Codeçosa". A family estate dating back to the year of 1758, with a unique environment in Minho and with an unusual size of 70 hectares, 50 of which are vineyards. The farm has a diverse and unique heritage with several traditional houses of the region, a chapel, a large granary and its threshing square, a pigeon loft and some charming stone tanks. There is also a river, the Neiva, which moves mills that the farm owns and waters the fields that the farm cultivates.  
And all this is accessed by an elegant cypress-lined entrance, between vineyards rigorously traced and laid out. 
The four main houses seem to form a village that leads to a common square. A Minho manor house, a large house with a chapel and inner courtyard, a schist house with an iron chimney where hops were dried and a house that was once a harvest warehouse. 
The Quinta and its houses still preserve the marks of time and activities and the functions that a working farm in Minho still has and wants to conserve.  
The recovery of the Quinta started with Casa do Lúpulo and Casa das Colheitas and a generously-sized outdoor swimming pool heated to 30 degrees. 
Casa do Lúpulo has seven rooms, three of them suites with bedroom and living room, a kitchen and a large living and dining room for breakfast and light meals. 
The second house that we have been renovating, Casa das Colheitas, will serve as support facility for our guests, for wine tasting, handicraft and cooking workshops and for events held on the Quinta such as weddings, christenings, birthday parties, team buildings, exhibitions, and other activities. 
Generosity in every corner and in every gesture marks the atmosphere that Terra Rosa wants to offer to those who visit it.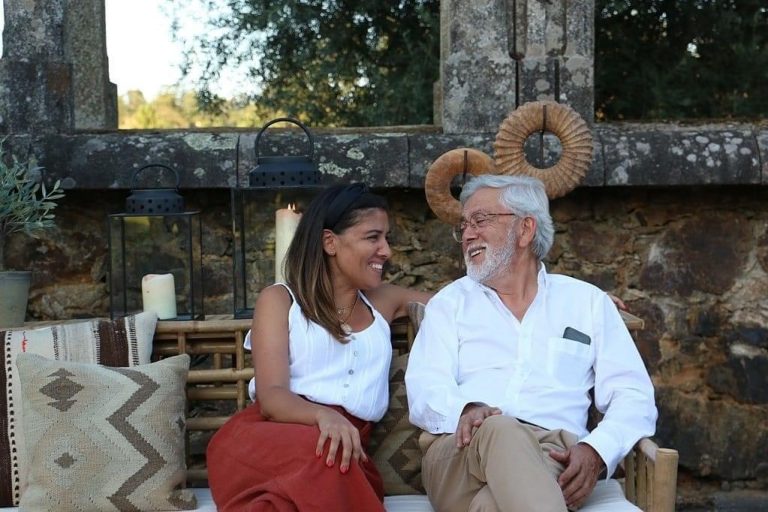 In 2017, as the result of several father-daughter conversations, the dream began to come to life and take shape the plan to transform Quinta de Codeçosa into an agritourism facility. 
Francisco Rosa and his daughter Eliana Rosa wanted to share the beauty of their Quinta and its vineyards, and so was born the Terra Rosa Country House & Vineyards. 
Eliana, the hostess who will be in charge of Terra Rosa and welcome the guests is also responsible for the recovery project and interior design of Terra Rosa. Her personal touch can be found everywhere, from the choice of the wood used in the house to the furniture and objects from various corners of the world, collected on her travels and as a result of her connection with the decoration business.  
Francisco Rosa's great passion, his vineyards, comes when he started the project to renovate the farm and implement it vineyards more than 15 years ago. His pioneering vision and economies of scale mindset, with years of dedication and commitment, managed to transform Quinta de Codeçosa into the largest producer of vinho verde of the Ponte Lima Cooperative Winery, as its 50 hectares of vineyard produced 1000 barrels. He is responsible for the development of the vineyards in integrated production and the plantation of most of the existing vines. 
Quinta de Codeçosa was bought from the Viscounts of Venade in 1948 by António da Silva Rosa and Laura de Araújo Martins, Francisco's parents. The estate dates back to 1758, which is the date inscribed in its chapel.  
António Rosa, with his vision as an industrialist and entrepreneur, soon realised that the land needed to be improved and be made productive. Thus, the work began "with shovel and pick" on the fields of very irregular slope considered impossible for cultivation.  
Laura de Araújo Martins made an effort to guarantee the livelihoods of the 7 families living and working on the farm while also ensuring the profitability of the property.  
Later, investments were made in apple, with an intensive production system. This was followed by the planting of hops, which was planted over 10 hectares, and later vineyards.  
The farm today has a modern agricultural system that preserves natural resources and has all the regulating mechanisms for high quality production. It contributes to sustainable agriculture with integrated production, giving value to biodiversity and environmental balance.